Page 2 of 2 •

1, 2

This is Kadamus. He's an alien operative of the MIB. He's done with Blue's shit on some level that us humans can barely even comprehend. He's very stiff and bad at interpersonal interaction, and he is also dying, because he's boron based and incapable of eating any of the food they have while they're trapped.
Design-wise, he used to be REALLY fucking boring, and then when I was redesigning the Aye There's The Rub crew a few months ago, I challenged myself: make Kadamus as gangly and cylindrical as possible, and also make his gun cooler because he used to just have a regular gun but really what kind of cool alien is going to have a gun that shoots bullets instead of microscopic hyperdense particles with the mass of freight trains??? Not One I Want Anything To Do With
You'll also note he's standing a bit awkwardly, he has six fingers on each hand, you can't see his eyes, and his feet are very large and not exactly facing the correct direction. There are reasons for all of these things.....
what if his eyes... are his glasses
Tamer




Posts

: 1266


Join date

: 2013-07-20


Age

: 18


Location

: right over here



Spark Eletran wrote:what if his eyes... are his glasses
yo im fucking screeching literally all the digital art in this is from before i even knew line correction was a thing jesus h christ nuke all this off the face of the earth

lemme see if i can rustle up some newer digital stuff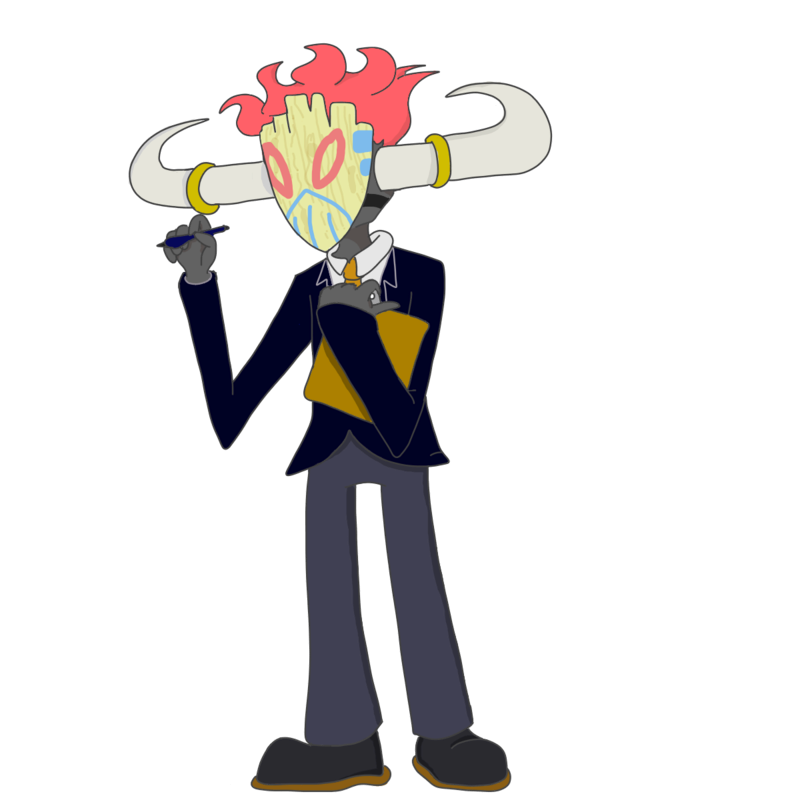 i had to use the antique forum uploader to do this because my school blocks imgur, pls appreciate the lengths i go to to defend my honor
anyway, this is Malcolm Everdread, from my new story Good Uncle Osric's Last Cabaret Theater. he's a property executive and kind of a shitlord, who's trying to claim the deed to the titular theater so he can bulldoze it and build, like, office towers or somesuch. he's a Cretan, which is a made-up species
-Yeesh, these guys are creepy. Tall and disproportionately spindly, with arms that reach well past their knees and big ol bull horns sticking out of their heads. They have brightly colored and highly variable hair.
-Their face consists of little more than a mouth with little fangs and a single immense eye that unconsciously hypnotizes anyone who looks at it into doing the cretan's bidding. This has rather frightening potential, so it's mandated that cretans wear masks when out in public. Most cretans regard this as pretty terrible.
-Much of their personality, identity, and character is self-constructed; the whole species is biologically female and largely genetically identical. Malcolm would have come up with his name himself when he was young, decided he was male, fashioned the design on his mask, carved the mask himself, and trained his voice to be deep and booming like it is.
Page 2 of 2 •

1, 2

---
Permissions in this forum:
You
cannot
reply to topics in this forum